Electronic Components
Electronics is a very broad category covering everything from consumer level goods, to industrial and laboratory devices, to military equipment, to the individual components used to produce each of those devices.
As there is a wide range of electronic components, there is also a wide range of distributors of these parts:
From the main franchised distributors like arrow, digikey, mouser, avnet and ... to an small shop in China local market.
We respect your right to know that each of the purchased part is from which type of supplier or distributor level regarding the quality and the expected reliability to minimize your risks and optimize your costs.
So How can we detect a part is New & Original or not ?
We think the best way is purchasing from reliable sources although we know how can we detect counterfeit parts.
If you are interested in this subject you can review below.
How to detect Counterfeit parts?
According to the Erai's classification you may face to the following main quality levels :
1. New & Original
2. Counterfeit parts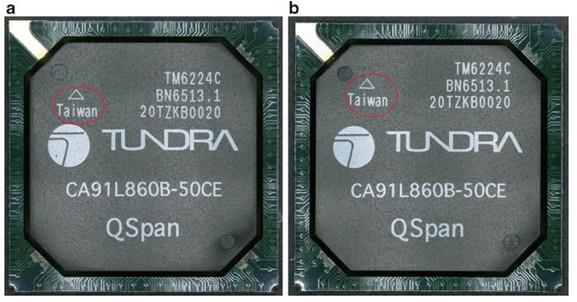 New & Original components
Below you can find Erai's definition for NEW components, For more details, you can visit : Erai
Electronic Components that have not been previously used in any capacity.

Goods that are free of any physical defects such as: scratches, test marks, third party markings, programs or bent leads.

New product that packaged in the original manufacturers packaging

Components in tubes and in trays that all have the same date code, lot code and country of origin.
Counterfeit Componets :
The counterfeit parts categorize into the following items:
In the United States, only 25% of electronic waste was properly recycled in 2009 .This huge resource of e-waste allows counterfeiters to pile up an extremely large supply of counterfeit components. The components become recycled when they are taken from a used system, repackaged and remarked, and then sold in the market as new. These recycled parts may either be non-functioning or the prior usage has done significant damage to the part's life or performance.
You can visti recycled electronic components process
In remarking, the counterfeiters remove the old marking on the package (or even on the die) and remarking again with forged information.Components can also be remarked to obtain a higher specification than they are rated for (e.g., for example, from commercial grade to industrial or defense grade).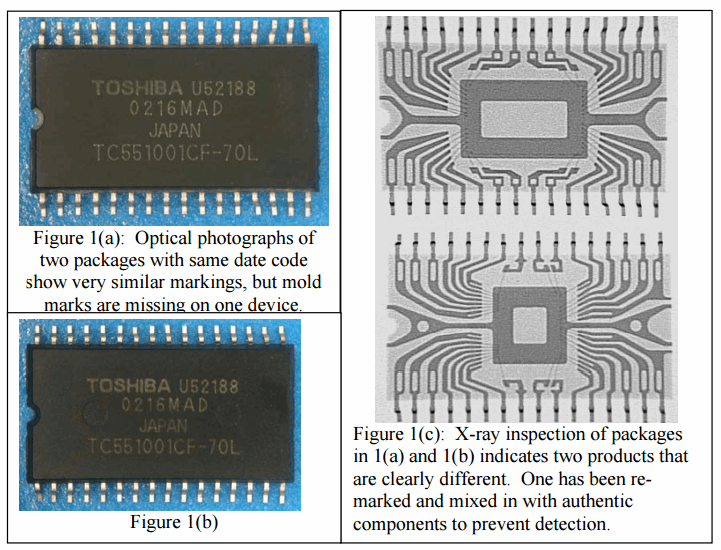 Given this increasingly growing cost and the complexity of foundries and their processes, the semiconductor business model has largely shifted to a contract foundry business model (horizontal business model) over the past two decades. This is also true for the assembly where the dies are packaged, tested, and shipped to the market. Any untrusted foundry/assembly that has access to a designer's IP, also has the ability to fabricate ICs outside of contract. They can easily sell excess ICs on the open market.
The other variation of an untrusted foundry/assembly sourcing counterfeit components is out of specification or rejected components. They may either knowingly sell these components, or the components may be stolen and sold on open markets. During manufacturing tests a component is considered defective if it produces an incorrect response to even one test vector. The probability of activating a component's defective node is extremely small. If
these components make their way into the supply chain, the detection will be extremely difficult as they produce correct responses in most of the test cases. These components can pose a serious threat to the reliability of a system.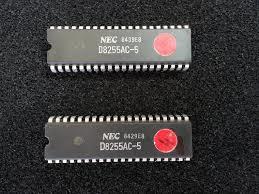 ​​​​​​​​​​​​​​
Cloning is widely used by a wide variety of adversaries/counterfeiters (from small entity to large corporation) to copy a design to reduce the large development cost of a component. A cloned component is an unauthorized production without a legal IP Cloning can be done in two ways – by reverse engineering, and, by obtaining IPs illegally.
Forged documentation may include certifications of compliance for some standards or programs, or a revision history or change-log of a component. Archived documentation for older designs and older parts may not be available at the OCM, making it difficult to verify their authenticity .
Tampering can be done during any phase of the life cycle of a component. It can either be in the die level ("hardware Trojan") or package level. Such components can either act as a silicon time bomb where the device can behave differently under certain conditions or act as a backdoor where secret information from the chip can be sent out to an adversary. In both cases, the chip behaves outside of its specification, and thus we have included such ICs into counterfeit parts. A detailed taxonomy for tampering a device by hardware Trojans can be found in https://ieeexplore.ieee.org/document/5406669
COUNTERFEIT DETECTION METHODS
It has become necessary for manufacturers, distributors, and users of electronic components to inspect all incoming electronic components for authenticity especially for parts purchased outside of OCM-authorized distributors.
Incoming Inspection
Exterior Test
Interior Test
Material Analysis
AC Parametric Tests ​​​​​​
Propagation Delay Test
Set Up / Hold Time Test
Access Time test
Rise / Fall Time Test
DC Parametric Tests
Contact Test
Power Consumption Test
Output Short Current Test
Output Drive Current Test
Threshold Test
Stuck-at Fault Test
Transition Delay Fault Test
Path Delay Fault Test
As the above mentioned methods for detecting counterfeit parts is improving, the counterfeiting is developing too in parallel.
So the best way is purchasing from the reliable suppliers.